Original Problems (page 48)

Original fairy problems published during 2012 will participate in the informal tourney JF-2012. 

The site is mostly about fairies, but h# and s# are also welcomed for publication! Please send your problems to my e-mail: julia@juliasfairies.com
---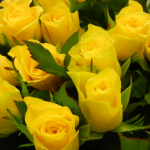 A problem No.100 ! I can't believe it myself, but this is the day when I have to publish it! The last week I was thinking about whom to give this number.. and finally decided to use it myself!

 
I'd like to dedicate this problem to all of you, dear authors, commentators, visitors! What I have done is really what we have done all together! Thank you !!
No.100 - hs#3*  by Julia Vysotska - Three active Queen-Chameleons! (JV)
---
Definition:
Chameleon: On completing a move, a Chameleon (from classical standard type) changes into another piece, in the sequence Q-S-B-R-Q…  Promotion may be to a chameleon at any stage in the cycle.
---
You can сlick on "Solutions" to show or hide the solutions!
---
Dedicated to all authors, visitors and commentators of this site!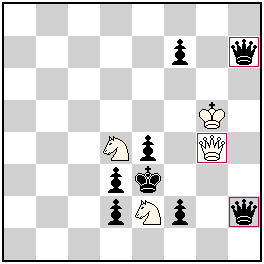 hs#3*                                            (4+8)
Сhameleons: Qg4, Qh2, Qh7
Creation of black reciprocal batteries CS/CQ after critical moves of black Chameleons.
Interchange of functions between the both black Chameleons.
Thematic tries; chameleon-echo model mates. Meredith. (Author)
---
The diagrams are made on WinChloe and its Echecs font is used for Logo design