Оригинальные задачи (страница 134)

Оригинальные сказочные задачи, опубликованные в течение 2012-ого года, участвуют в неформальном конкурсе JF-2012!

Сайт в основном посвящен сказочному жанру, но h# и s# тоже будут опубликованы! Пожалуйста, присылайте свои произведения на адрес: julia@juliasfairies.com
---
Теплое приветствие на сайте известному немецкому проблемисту, а также редактору сказочного раздела всемирно-известного немецкого журнала  Die Schwalbe – Arnold Beine!
No.204 – h#5,5 – Arnold Beine  – Интересное выступление трио нейтральных пешек! (JV)
---
Определения:
Circe: Captured units (not Ks) reappear on their game-array squares, of the same colour in the case of pieces, on the file of capture in the case of pawns, and on the promotion square of the file of capture in the case of fairy pieces. If the rebirth square is occupied the capture is normal.
Maximummer: Black must play the geometrically longst move or may choose from among longest moves of equal length, distances being measured from the center of each square. Diagonal and oblique distances are measured from the orthogonal coordinates by using Pythagora's theorem (take the square root of the sum of the squares of the orthogonal distances). All other orthodox chess rules apply.
---
Germany
original-24.12.2012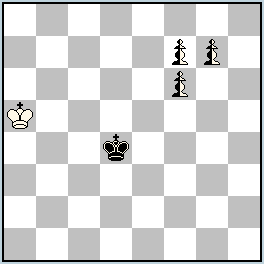 h#5,5          b) Kd4→d6        (1+1+3)
Circe
Maximummer
---
Все диаграммы сделаны на WinChloe и ее фонт Echecs использован для дизайна Лого.