Оригинальные задачи (страница 46)

Оригинальные сказочные задачи, опубликованные в течение 2012-ого года, участвуют в неформальном конкурсе JF-2012!

Сайт в основном посвящен сказочному жанру, но h# и s# тоже будут опубликованы! Пожалуйста, присылайте свои произведения на адрес: julia@juliasfairies.com
---
Хочу представить Вам другую серию задач от Emmanuel Manolas – в этот раз с условием Maximummer! А вот комментирование этих задач  я бы предпочла оставить читателям, кто знает тайны Maximummer'a и обратных матов, пожалуйста!
Смотрите сложные задачи Эммануэля:
No.96 – s#17
No.97 – s#11
No.98 – sr#25, Degradation Chess
---
Определения:
Maximummer: Black must play the geometrically longst move or may choose from among longest moves of equal length, distances being measured from the center of each square. Diagonal and oblique distances are measured from the orthogonal coordinates by using Pythagora's theorem (take the square root of the sum of the squares of the orthogonal distances). All other orthodox chess rules apply.
Degradation Chess (Relegation Chess): Any piece (not King) entering its own side's pawn-rank is changed into a pawn.
---
Вы можете нажать на «Solutions»(решения) чтобы увидеть или спрятать решения!
---
 

 

s#17*                                            (2+7)

 

 

 

Switchbacks of bQ visiting 4 corners, Round-trip of wK.  (Author)

 

 

s#11*                                           (2+5)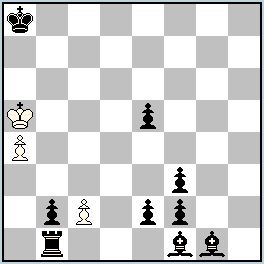 sr#25                                           (3+9)
Three times Excelsior, three under-promotions to Bishop, three inverse promotions. 
(Author)
---
Все диаграммы сделаны на  WinChloe и ее фонт Echecs использован для дизайна Лого.