Оригинальные задачи (страница 9)

Я буду публиковать здесь некоторые свои оригинальные задачи и буду рада поставить также Ваши! Диаграммы, комментарии, новые идеи, любые схемы для дискуссии – очень приветствуются!

Сайт в основном посвящен сказочному жанру, но h# и s# – тоже добро пожаловать! Пожалуйста, присылайте свои произведения на адрес: julia@juliasfairies.com
---
А теперь открывает страницу моя задача – и я хочу посвятить ее всем вам!
№ 28 – hs#3* – Julia Vysotska – Тема Dentist, с веселыми парами фигур – белые S+S и черные R+R. 
(25.06.12) На этой странице получилось так много комментариев, что я решила новые задачи ставить уже на следующей. Надеюсь, всем так будет удобнее. А за комментарии очень благодарна – было очень интересно!!
---
–
Посвящается всем авторам, посетителям и комментаторам сайта!
–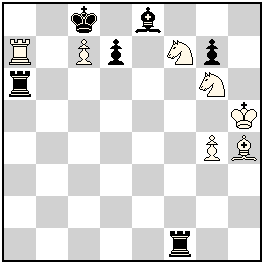 hs#3*                                         (7+6)
–
Solutions:
Set-play: 1…Ra6-a5 + 2.Sf7-g5 Rf1-f7 3.Sg6-e7 + Rf7*e7 #
Real play: 1.Bh4-g5 Rf1-h1 + 2.Sg6-h4 Ra6-g6 3.Sf7-d6 + Rg6*d6 #
–
Dentist-theme with preliminary line openings by the both white S.
Umnov-theme: the black Rooks occupy the squares left by the white Ss.
Interchange of function between two duos of pieces: black Ra6/Rf1 and white Sf7/Sg6.
Key move, which de-blocks a square and blocks other square. (Author)
---
Все диаграммы сделаны на  WinChloe и ее фонт Echecs использован для дизайна Лого.