---
No.532 – Ján Golha – Четырехфигурный аристократ с эхо-игрой! (JV)
---
Определения:
Parrain Circe: After a capture, the captured piece is reborn only after another piece of its own side has moved. The line between capturing square and rebirth square is parallel with and of same direction and length as the move of this other piece. Pawns can be reborn on 1st and 8th rank. From their own base rank, they may move one-step; if reborn on the promotion rank, the Pawn at once promotes, the promotion piece being determined by the Pawn side.
Grasshopper(G): Ходит по линиям ферзя, только перешагивая через другую фигуру любого цвета, на поле, следующее сразу за этой фигурой. Взятие может быть только на поле прибытия, фигура-препятствие остается незатронутой.
Locust(L): Саранча. Ходит по линиям ферзя, но только со взятием фигуры противника прыжком через нее на следующее за ней поле, причем это поле должно быть свободным.
---
Slovakia
original-26.04.2014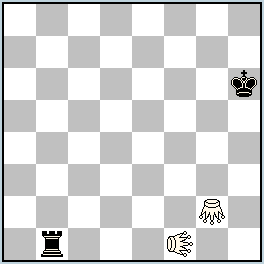 h#6                3 solutions             (2+2)
Parrain Circe
Locust f1
Grasshopper g2
(no white King)
---