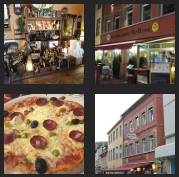 45th FairyChessFriendsMeeting at Andernach
May 30 – June 02, 2019 ANNOUNCEMENT / "PROGRAM "

Thursday May 30: Arrival at Ristorante Bellini (Hochstr.39) or at the marketplace nearby; please note that Bellini is closed from 2:30 pm till 5:00 pm. Starting Friday May 31 as last year we meet at Hotel Stammbaum (Marktgasse 1, phone: Germany 2632 42670), being closed at Thursday, but room access is ensured. All 12 double rooms in Hotel Stammbaum are reserved for our meeting (75 EUR / day incl. breakfast), so you should book as soon as possible. From Friday after breakfast till Sunday noon the hotel will be reserved exclusively for us.
---