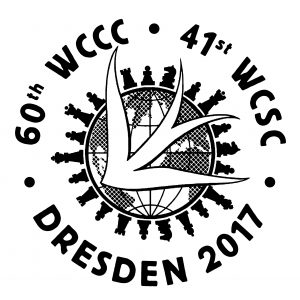 60th WCCC & 41th WCSC
Dear all,
We proudly inform you that the official web site for the 60th WCCC /41st WCSC held in Dresden (August 05-12, 2017)  is online — please use it for information on the event and for registration.
The address is https://www.wccc2017.de
Thank you very much for your support, and see you at Dresden! ∼ Thomas Brand
WCCC Official Composing Tourney (Concurrently 222nd Schwalbe Theme Tourney)
Theme: Fairy #3 – #8 with Dresden idea:
A strong defence by one black piece is eliminated, but another, yet weaker defence by a second black piece, newly brought into play, substitutes for it. Depending on how the strong defence is eliminated there are three main types of the Dresden theme.
Judge: Jörg Kuhlmann | Closing date: Sunday, 16 July 2017, 12:00 p.m., by entering problems directly to the directors Gunter Jordan and Sven Trommler, using this mail address: tourney_wccc2017@web.de | See full announcement (PDF)