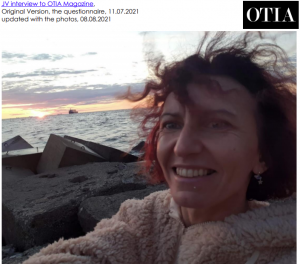 I don't know how they found me… but in the spring 2021 I was invited to give an interview to OTIA magazine – uncovering arts and culture in the tech community. 
"Behind every technologist is a passion – a person who likes to create, share, try, listen, make, build, solve, volunteer or share."
Somehow I got caught right away by OTIA's project, which opens not only "technological" but also human part of us. Of course, my first thought was that it's a wonderful chance to promote chess composition, to tell about it to the world out of our society. But when started answering questions, I was brought back to the very beginning.. to my first steps in chess composition. Those emotional moments remain in our memories and mean more than any achievements later.
It is usually hard to start writing… but later it is the same not easy to finalize it! I had a reason to complete the interview faster: 10 years ago, in July 2011, I started to compose my first chess problem! The article "Julia Vysotska, Financial Manager on Chess Composition" came on July 23rd to celebrate my anniversary in chess composition!
It is their problems what we know about Chess Composers, and their magazines – what we know about the Editors. But we are not only that. What is behind each of us? Here, on JF's home page, I'm on the stage in front of you.  My original questionnaire (the full version of the interview) is the story from the backstage I'd like to share with you.
Let's add some human touch to the diagrams – you're welcome to share your stories too!
---