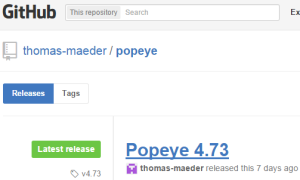 Popeye team has announced Popeye 4.73, available on https://github.com/thomas-maeder/popeye/releases/tag/v4.73
Also, in August,2015 Popeye is moved from sourceforge.net to github! For now three releases of Popeye (4.69-4.73) are available at Releases menu.
One more comment by Thomas Maeder on MatPlus: "Please use the issues section (symbol "!" on the right) for your new bug reports and issue requests – most of the old ones have been migrated to the new site, as well as release 4.69 – more releases may follow."
Thanks a lot to Popeye team for their work!
---