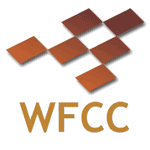 The results of the 2013-2015 WCCI are just announced on WFCC website. 
The first three places in G – Fairies are:
1st place – Vasil Ďačuk (Slovakia)
2nd place – Juraj Lörinc (Slovakia)
3rd place – Ofer Comay (Israel)
My sincere congratulations to the winners and all participants!
Also, I'd like to mention Dmitri Turevski, the director of this WCCI, who (in additional to the primary work!) has absolutely minimized my work in publication of all WCCI materials on wfcc.ch, from the entries till the final results. Thank you, Dmitri!
---