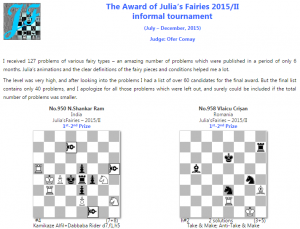 Dear Friends, I have a pleasure to announce
The Award of Julia'sFairies-2015/II
by Ofer Comay
The selection of 40 out of 127 fairy problems of different kinds! A tremendous work done by the judge, Ofer Comay, in so short period of time! 
This is the first Award of JF I have a pleasure to publish for you this year, dear readers and participants of JF's competitions, and I'm sure you will enjoy this presentation of 40 problems selected as the very best! I have to tell that the both competitions of 2015, I and II, have the biggest number of problems since the first year of JF, 2012, with about 200 problems judged by N.Shankar Ram.
I'm very grateful to the judge, and I heartily congratulate all authors of rewarded problems! My special thanks to all commentators for your interesting questions, creative ideas, and all good words to the authors of published problems! Finally, I would very much like to invite all readers to give a feedback to the authors of published problems, to tell those good words about the problems you liked, remembering that not only the improvements or critics are of the main importance.
The Award is provisional and will become final after one month. – Julia
---