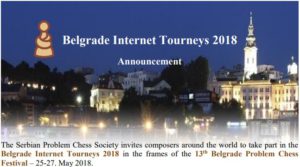 Belgrade Internet Tourneys, Group C – Fairy h#2
This tourney is devoted to the 50th birthday of the judge, Dinu-Ioan Nicula, and marked by Latin "L" (for number 50). Thematic condition: "L-problem" symbolized by Lortap and Locust. Helpmate in 2 using Lortap condition, and Locust(s) fairy piece. Other fairy elements are not allowed.
Entries (not more than 3 per composer – single or joint) should be sent directly to the judge Dinu-Ioan Nicula: nicudin004@yahoo.com by 19. May 2018.
Selected problems from BIT 2018 Group C will be subject of the Composing-Solving contest on Friday, 25. May 2018.
See detailed announcement (PDF) with examples and competitions Group A&B.