Issue 17, December 2019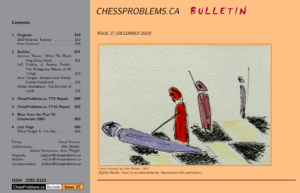 , of the ChessProblems.ca Bulletin is available online at http://Bulletin.ChessProblems.ca. Includes Originals, 4 articles (Andreas Thoma, Jeff Coakley & Andrey Frolkin, Arno Tüngler, Adrian Storisteanu), TT9 & TT10 Report, Blast from the Past IV.
The bulletin is published by Cornel Pacurar since March 2014 and is mainly dedicated to Fairies, Series-Movers in particular.
---