The Hungarian Chess Composers website on the occasion of the 15th anniversary of the introduction of the site, announces a Jubilee Theme Tourney in Orthodox and Fairy sections.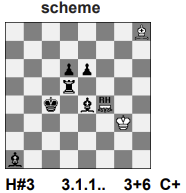 Theme: Helpmate in 3 or more moves, which including battery creation with three or more solutions.
I.) In solutions a) and b), A and B form two-way batteries, then give battery mates. The front piece cannot attack the king in the mate position.
II.) In solution c), after the front piece (A) of the battery that has been created is captured, the long-range piece (B) of the battery gives mate.
Judges: I. Orthodox section: Ladislav Packa |  II. Fairy section: Vlaicu CRISAN 
Fairy pieces and fairy conditions are allowed.
Please, send computer tested problems only (indicate the program used for testing), to tournament director János Mikitovics, j.mikitovics@gmail.com, till September 30, 2022.
Number of entries per composer: no limit | Joint problems: no limit | The prize money pool is: € 1,000.
The Premilinary and Final Award will be published on the Hungarian Chess Composers website.
---