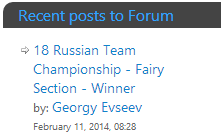 11th of February, 2014
While Forum is not active enough, I believe I should turn your attention to the New Forum contents added! New posts to the Forum you can see on the right panel under Recent posts to Forum section (for a while I've moved it before the Recent Comments section). Your posts to the Forum are very welcome, as this way you can open some new topics which are out of my publications, but might be interesting to the others. 
You have to be registered on the site to be able to write posts in Forum! Use Guest Login Panel at the bottom of the right menu to register.
---