Original Problems (page 102)

Original fairy problems published during 2012 will participate in the informal tourney JF-2012. 

The site is mostly about fairies, but h# and s# are also welcomed for publication! Please send your problems to my e-mail: julia@juliasfairies.com
---
Warm welcome to the world known Australian composer and problem-editor Geoff Foster! Also, I'd like to add here, that I'm very thankful to Mr.Foster for English correction of my translation of the article "HS# – IT'S VERY INTERESTING!" (P.A.Petkov), and I know that there're many cases when Mr.Foster helps with such kind of work. Thank you!!

I'm very happy to publish this problem by Geoff Foster:  
No.167 – h#3 – Very interesting four-men problem with surprising nQ promotions. (JV)
---
Definitions:
Superpawn: Moves straight forwards and captures diagonally forwards through as many empty  squares as desired. Promotion is normal.
Couscous Circe: As Circe, but the captured piece reappears on the Circe rebirth square of the  capturing unit. Pawns reappearing on promotion squares are promoted instantly, at the choice of  their own side.
---
Australia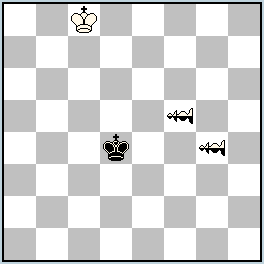 h#3                                        (1+1+2n)
(b) vertical mirror (a1<>h1)
Neutral Superpawns: f5, g4
---
The diagrams are made on WinChloe and its Echecs font is used for Logo design