Original Problems (page 117)

Original fairy problems published during 2012 will participate in the informal tourney JF-2012. 

The site is mostly about fairies, but h# and s# are also welcomed for publication! Please send your problems to my e-mail: julia@juliasfairies.com
---
Welcome to new author, from Australia, Linden Lyons! I'd like to mention that Linden is young composer, who has started composing fairies, and his start and maybe his favorite piece for now is Grasshopper. Some problems by Linden are shown in the article by Geoff Foster in The Problemist Supplement, March-2012 – "A Path For The Young Composer". 
No.182 – #2 by Linden Lyons – A rare case when we have fairy #2 here! (JV)
---
Definition:
Grasshopper(G): Moves along Q-lines over another unit of either color to the square immediately beyond that unit. A capture may be made on arrival, but the hurdle is not affected.
---
Australia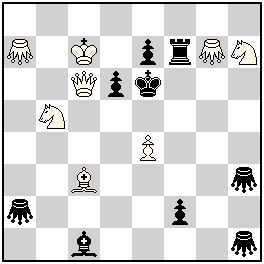 #2                                                  (8+9)
Grasshoppers: a2, a7, g7, h1, h3
---
The diagrams are made on WinChloe and its Echecs font is used for Logo design