Original Problems (page 49)

Original fairy problems published during 2012 will participate in the informal tourney JF-2012. 

The site is mostly about fairies, but h# and s# are also welcomed for publication! Please send your problems to my e-mail: julia@juliasfairies.com
---
The 1st problem of the next hundred is welcomed!
No.101 – ser-#6  by Peter Harris –  Aristocrat miniature with series direct play and difficult solutions. (JV)
My problem No.100 is between 2 problems by Peter – No.99 and No.101! – Can I make a wish? 🙂
---
Definitions:
Ultra-Patrol Chess – A piece can move, capture or give check only if it is observed by a piece of its own side.
Sentinels: when a piece (Ks included but not pawns) moves, a pawn of the same colour appears on the vacated square unless that square is on the first or eighth ranks or there are 8 pawns of that colour on the board already.
---
You can сlick on "Solutions" to show or hide the solutions!
---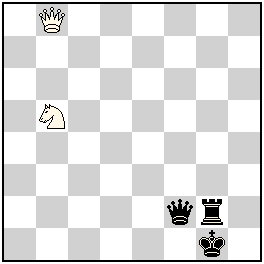 ser-#6          b) Sb5→b6             (2+3)
---
The diagrams are made on WinChloe and its Echecs font is used for Logo design