Original Problems (page 67)

Original fairy problems published during 2012 will participate in the informal tourney JF-2012. 

The site is mostly about fairies, but h# and s# are also welcomed for publication! Please send your problems to my e-mail: julia@juliasfairies.com
---
Warm welcome to the world-known German author – Hubert Gockel ! I'm happy to present you a nice two-mover:
No.126 – #2  –  Interesting interpretation of Le Grand  theme.  (JV)
---
Definitions:
Lortap: A piece cannot capture or check if it is observed by a piece of its own side.
---
You can сlick on "Solutions" to show or hide the solutions!
---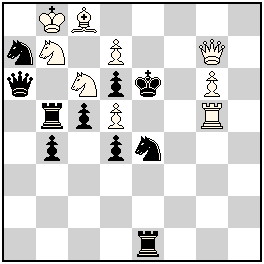 #2                 3 solutions!          (9+10)
---
The diagrams are made on WinChloe and its Echecs font is used for Logo design