Original Problems (page 80)

Original fairy problems published during 2012 will participate in the informal tourney JF-2012.

The site is mostly about fairies, but h# and s# are also welcomed for publication! Please send your problems to my e-mail: julia@juliasfairies.com
---
Welcome to new author on the site – Vito Rallo, Italy! I believe that solvers will enjoy 3 problems by Vito presented here!
No.140 – hs#4 – A nice Miniature with fine white self-blocks! (JV)
No.141 – hs#3 – Black promotions + self-blocks. (JV)
No.142 – hs#3 – Surprising captures of 'd'-Pawn. (JV)
---
You can сlick on "Solutions" to show or hide the solutions!
---
 

 

hs#4             b) Rc2->c5           (3+4)

 

 

 

 

hs#3             2 solutions              (5+4)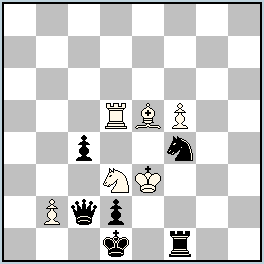 hs#3              2 solutions             (6+6)
---
The diagrams are made on WinChloe and its Echecs font is used for Logo design