Original Problems (page 94)

Original fairy problems published during 2012 will participate in the informal tourney JF-2012. 

The site is mostly about fairies, but h# and s# are also welcomed for publication! Please send your problems to my e-mail: julia@juliasfairies.com
---
Warm welcome to India's leading composer – C.G.S.Narayanan! Also, I'm happy to present you the first superguards problem published anywhere (not counting the examples in Tourney announcement). 
No.159 – h#3 by C.G.S.Narayanan –  А nice reciprocal play of the both Kings! (JV)
---
Definitions:
Superguards: Any piece (including Kings and pawns), which is observed by another piece of the same color cannot be captured. Pinned pieces also observe.
---
You can сlick on "Solutions" to show or hide the solutions!
---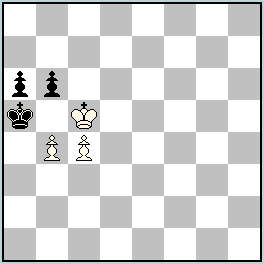 h#3                   duplex                (3+3)
---
The diagrams are made on WinChloe and its Echecs font is used for Logo design