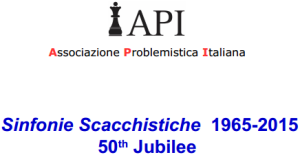 To celebrate ativan Sinfonie Scacchistiche's 50th Jubilee, A.P.I. (Associazione Problemistica Italiana) organizes an International Informal tourney in the year 2015.
Free theme in all sections. See sections/judges in the full announcement!
All entries must be received within 31/12/2015 by the Tournament Director, via e-mail (valerio.agostini@gmail.com) and will be published in the magazine (each participant will receive a copy of the publication and the award).
---