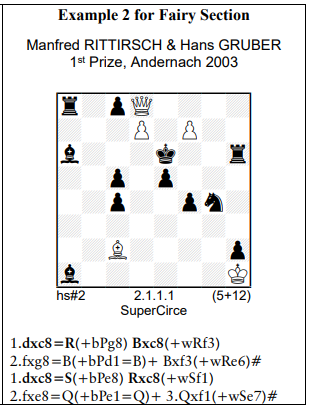 18th Romanian Tzuica Tourney
Judges: Vlaicu Crişan & Eric Huber (Romania)
Theme: Helpself compositions (hs#n/hs=n) with at least 2 solutions showing the Schnoebelen theme.  This year's tourney is dedicated to Guy Sobrecases.
Please take in consideration the following definitions:
1. In a help-selfmate problem in 'n' moves (denoted hs#n), White starts and Black collaborates with White in order to reach a position of s#1 (selfmate in one move) at move 'n' (the last move). Helpselfstalemates are also accepted.
2. Schnoebelen theme: A promoted unit, which has not played after its promotion, is captured on its promotion square.
Problems with twins or zeroposition are allowed.

All fairy pieces and conditions are accepted, provided that the problem is checked by a known solving program.
Prizes: bottles of Tzuica, hopefully deliverable during 2021 WCCC. The tourney is open worldwide, however the prizes will be for 2021 congress participants only.
Deadline: October 7th, 8 p.m | Send to: Eric Huber, hubereric@yahoo.fr
---