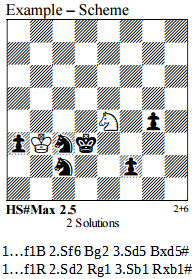 Belgrade Internet Tourneys 2017
Composing Tourneys announced for the 12th Belgrade Problem Chess Festival 26th-28th May 2017 are split into 3 groups, including fairy Group C (HS#2.5 Max) which will be judged by solvers and composers themselves, in a special Composing-Solving-Judging contest on May 26th 2017, the first day of the Festival.
Group C – HS# Max 2.5, 2 Solutions Thematic condition: Help-selfmate Max is a new condition, with the help-play before the last two half-moves, presenting S#1 Maximummer (Black has to play the geometrically longest move).
The BIT 2017 will use the method of entering originals for the tourney directly to the Mat Plus website. Composers unable to use it may send their entries by email to the Mat Plus administrator: borislav.gadjanski@gmail.com. Deadline: May 23rd 2017.
---