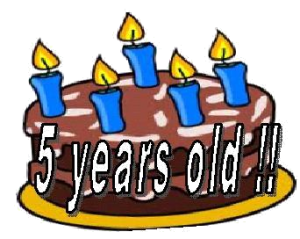 JF's 5 years jubilee
It feels like so recently I proudly wrote about JF's first year, but today this website celebrates the first real jubilee, 5 years.. and I don't know where to start from..
What is JF for me? As a growing baby, requiring time and care, it is making me glad, and more and more busy, in the same time. I have some figures and facts to be proud of, like number 1200 in the section of originals (an average of 2 publications in 3 days); then average of 120 visits per day (about 80 unique ones) from 27-30 countries; 15 informal competitions and 5 thematic ones; animated solutions implemented since June 2014 with Dmitri Turevski's help…
→ more…

Running the site, publishing different kinds of fairy problems, and announcements, I feel like learning all the time. But getting to know all of you who help me, who contribute to JF, who are part of "JF's community", means even more! The names, so many, from so different countries, turned into alive persons. And I know, this is in the both directions. Some years ago (2, 3?) I started seeing the references to Julia's Fairies publications as simply: JF… The independent life of these two letters still means a lot to me.
---