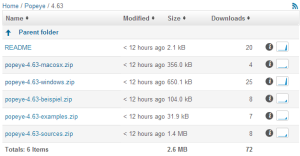 05 May, 2013
Popeye release 4.63!
It's a pleasure for me to let you know that a new version of Popeye – release 4.63 is available from now for download!
See what's new in the release notes:
New fairy conditions
——————–
Circe Take&Make (aka Anti-Take&Make)
Magic square type 2
Marine Chess and Ultramarine Chess
SuperGuards
Wormholes

New fairy pieces
—————-
Marine Knight
Marine Pawn
Marine Ship
Poseidon
Plus, there're also many bugs fixed.
Personally I'm very happy about this release, because the Marine pieces – Marine Knight, Poseidon and Marine pawn – are added! The next days see the 2nd part of the article about Marine pieces by IGM Petko A. Petkov, and also the announcement of Marine TT by Julia's Fairies!
I'm very grateful to Thomas buy cialis jakarta Maeder for a very fast implementation of these pieces! 
---