---
No.322 by Pierre Tritten – Non-standard use of Poseidon with an exotic fairy condition! (JV)
---
Definitions:
Poseidon (PO): The Marine King is named "Poseidon". The Poseidon moves like a King when not capturing, and captures adjacent pieces like a Locust.
Locust (L): moves on Q-lines but only by capturing an enemy unit, arriving on the square immediately beyond that unit, which must be vacant.
Anti-circe couscous: When a piece captures (including King), it must come back to the captured unit rebirth square – if this square is occupied, the capture is forbidden. A Pawn capturing on its promotion rank promotes before it is reborn.
---
France
original-23.05.2013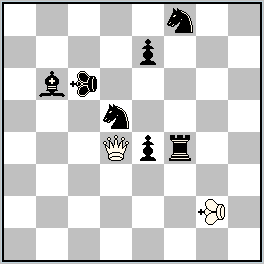 h#2               2 solutions             (2+7)
Couscous Anti-Circe
Poseidons: c6, g2
---