---
No.453 by Peter Harris – A dance of 8 pieces around the both Kings finishes with 2 different selfmates! A problem is C+ by the old Popeye version 4.47, but have cooks in Py 4.59, 4.61 (Py 4.63 doesn't solve Chameleon Chess, so can't be used at all). See author's comment about the differences in the solutions!
Same as in previous Peter's problems there's Chameleon Chess condition which is implemented differently in Popeye and in WinChloe, so please take into consideration that here is Popeye's (and also the inventor's) version. (JV)
---
Definitions:
Chameleon Chess: All pieces on the board which are displayed as orthodox Q, R, B, S, are Chameleons. A Pawn can promote only in Chameleon-pieces.
Here I'd like to mention that this interpretation works in Popeye's versions till 4.61, and doesn't work in the last version, 4.63 because of the bug which is going to be corrected in the next version.
Also, WinChloe has a different interpretation of Chameleon Chess, where orthodox pieces on the board don't turn into Chameleons, but a pawn promotes into Chameleon piece. I'd like to offer you a little explanation with examples about WinChloe's interpretation of Chameleon Chess and Promotion into Chameleon Allowed kindly provided by Christian Poisson.
Chameleon: On completing a move, a Chameleon (from classical standard type) changes into another piece, in the sequence Q-S-B-R-Q… Promotion may be to a Chameleon at any stage in the cycle if any Chameleon piece is presented on the board.
Anti-Circe: =Anti-Circe Calvet (the default type): After a capture the capturing piece (Ks included) must immediately be removed to its game array square (necessarily vacant, else the capture is illegal). Captures on the rebirth square are allowed. Game array squares are determined as in Circe.
Isardam: Any move, including capture of the King, is Isardam illegal if a Madrasi-type paralysis would result from it.
Madrasi: Units, other than Kings, are paralysed when they attack each other. Paralysed units cannot move, capture or give check, their only power being that of causing paralysis.
---
South Africa
original – 09.12.2013
Dedicated to Vlaicu Crisan.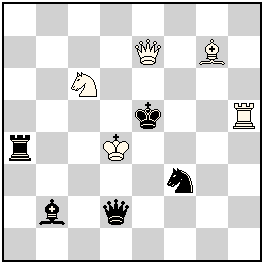 hs#3              2 solutions             (5+5)
Chameleon Chess
Anti-Circe
Isardam
---