---
No.455 by Nikola Predrag – This beautiful miniature by Nikola, who's also so good commentator on the site, was sent to the tournament Marine TT 2013, but unfortunately couldn't participate as it has 6 moves (problems of 2-4 moves were allowed). Being a director of the tournament, I've accepted a problem by mistake to the competition, and recently had to return it back to the author. I heartily regret about it! But author has decided to publish it here, with a dedication to the organizer and the judge of Marine TT, and to participate with it in the site's informal tournament.
I'm happy to show you this problem before the publication of the Award of Marine TT 2013, I'm also grateful to Nikola for the dedication! And I'd like to quote the comment to the problem by Petko A. Petkov, the judge of Marine TT: "A very non-standard and complicated for solving miniature (6 pieces!) with active play of all white and black pieces. Impressive is the beautiful, multiple realization of Umnov's theme in the play of SKe7/Sc8. The finale is a surprising ideal mate!"   (JV)
---
Definitions:
Nereid (ND): (1,1) Marine. Marine piece operating along Bishop lines: without capture moves as Bishop, with capture – as Locust.
Poseidon(PO): The Marine King is named "Poseidon". The Poseidon moves like a King when not capturing, and captures adjacent pieces like a Locust.
Skylla(SK): The Skylla moves as a normal Knight provided the destination square is vacant; to capture it takes an enemy unit on the intervening orthogonal square. If this square is occupied by a friendly unit then the Scylla is obstructed (it's Marine MAO).
---
Croatia
Ded. to J.Vysotska & P.Petkov for the great teamwork in Marine TT
original – 30.09.2013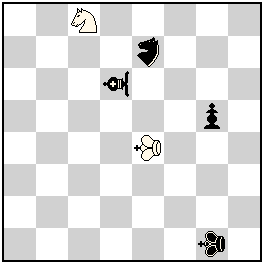 hs#6                                              (2+4)
Nereid d6
Poseidons: e4, g1
Skylla e7
---