---
No.490 by János Mikitovics – A nice chameleon-echo!  (JV)
---
Definitions:
Swapping Kings: If a move exposes the opponent's King to a check under normal rules, then the two Kings are switched, and check or checkmate is newly evaluated, and of course a move is illegal if after such a switch one's own King is in check.
Berolina-Pawn(BP): Walk and capture are swapped relative to the orthodox Pawn. The Berolina-Pawn moves without capturing diagonally (possibly two squares if it is on the second row of its side) and captures vertically.
Berolina Super Pawn(BS): It is Berolina-Pawn but its moves and captures are respectively extended to the entire diagonal and the entire column.
---
Hungary
original-21.01.2014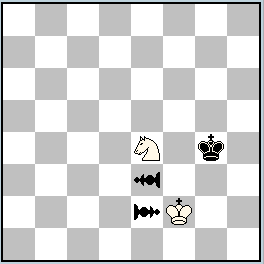 h#3               b) Se4→d2              (2+3)
SwappingKings
Berolina superpawn e3
Berolina pawn e2
---