---
No.560 by Nikola Predrag – Original motivation of black castlings! (JV)
---
Definitions:
Equihopper: Moves along any line over another unit of either color to a square situated such that the hurdle stands at the mid-point between the Equihopper's departure and arrival squares. The English Equihopper cannot pass over an obstruction other than the hurdle when playing along Queen-lines. The non-stop/French Equihopper does not have this restriction. Unless otherwise stated, the non-stop Equihopper is meant.
Nereid(ND): Marine piece operating along Bishop lines: without capture moves as Bishop, with capture – as Locust.
Locust(L): Moves along Queen lines only by capturing an enemy unit, arriving on the square immediately beyond that unit, which must be vacant.
LEO(LE): Chinese Queen. Moves as Queen, but captures only by hopping over a hurdle to any square beyond. 
---
Croatia
original – 23.06.2014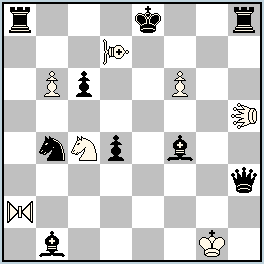 h#2             b) wPb6→e5            (7+9)
Nereid d7
Equihopper a2
Leo h5
---