---
No.217 – hs=4,5 by János Mikitovics –  Interesting synthesis between strange condition Masand and Circe! (JV)
No.217.1; 217.2 by János Mikitovics –  An improved versions to the problem No.217. (JV)
---
Definitions:
Masand: A unit which moves and actively checks changes the colour of all the units (not Ks) which it observes after the move. A checking rear (non-moving) piece of a battery would not recolour the units it observes. 
Circe:  Captured units (not Ks) reappear on their game-array squares, of the same color in the case of pieces, on the file of capture in the case of pawns, and on the promotion square of the file of capture in the case of fairy pieces. If the rebirth square is occupied the capture is normal.
Chameleon: On completing a move, a Chameleon (from classical standard type) changes into another piece, in the sequence Q-S-B-R-Q…  Promotion may be to a chameleon at any stage in the cycle.
---
Hungary

original-04.01.2013

Dedicated to György Bakcsi

 

hs=4,5          2 solutions             (2+3)
Masand
Circe

 

 

 

No.217.1

 János Mikitovics

Hungary

Version of No.217, 05.01.2013

Dedicated to György Bakcsi

 

hs=4             2 solutions             (2+3)
Masand
Circe
Chameleon Rc2

 

 

 
No.217.2
János Mikitovics
Hungary
Version of No.217, 07.01.2013
Dedicated to György Bakcsi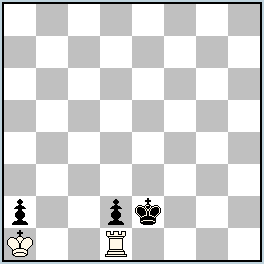 hs=4,5        b) wRd1→g1          (2+3)
Masand
Circe
---