---
No.255 by Peter Harris – A problem based on the ideas shown in No.249 and in the comments to it. 5 solutions where solvers have to add one more black Knight on the right place for each solution! (JV)
---
Definitions:
Locust (L): moves on Q-lines but only by capturing an enemy unit, arriving on the square immediately beyond that unit, which must be vacant.
---
South Africa
original-17.02.2013
(After Julia Vysotska & Georgy Evseev)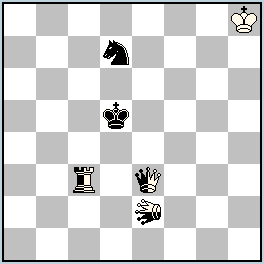 Add a bS then h#1.5              (1+2+3)
5 solutions
Locust e2
Help for solvers: there are two JV solutions: a horizontal and a diagonal. Two give # with double +. The fifth is mysterious.
---