---
No.338 by Gani Ganapathi –  Non-standard play of different types of Pawns! (JV)
---
Definitions:
Chameleon Chess: All pieces on the board which are displayed as orthodox  Q, R, B, S,  are Chameleons. A Pawn can promote only in Chameleon-pieces.
Chameleon: On completing a move, a Chameleon (from classical standard type) changes into another piece, in the sequence Q-S-B-R-Q…  Promotion may be to a chameleon at any stage in the cycle.
Berolina-Pawn: Walk and capture are swapped relative to the orthodox Pawn. The Berolina-Pawn moves without capturing diagonally (possibly two squares if it is on the second row of its side) and captures vertically.
Royal piece: Piece that executes a function of the King on the board.
---
India
original-22.06.2013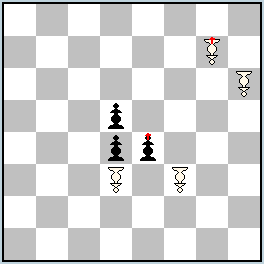 h=3               2 solutions              (4+3)
Royal pawns: g7, e4
Berolina-Pawns: h6, d3, f3, g7
Chameleon Chess
---