No.500 
Julia Vysotska (Latvia)


No.500.1
Julia Vysotska & Petko A. Petkov (Latvia / Bulgaria)

Original Problems, Julia's Fairies – 2014 (I): January – April

  →Previous ; →Next ; →List 2014(I)

Please send your original fairy problems to: julia@juliasfairies.com
---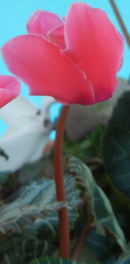 No.500 by Julia Vysotska – A miniature with three dynamic fairy conditions! For now, technically it is the most complicated problem I have. I believe it's a miracle that I've found this one after all tries! And the same time I hardly believe that this is the 500th time when I publish a problem! I really want to congratulate myself! And the site, and all of you!
Note: This problem is C+ by Popeye, but has just one solution by WinChloe, because the move order for combination of conditions Take&Make and Anti-Take&Make is different in the both programs. Popeye considers that Take&Make works first, and Anti-Take&Make – after that. (JV)
No.500.1 by Julia Vysotska & Petko A. Petkov – A three-solution version of No.500, full cycle!! I believe that the both – my idea and your comments – encouraged Mr.Petkov to achieve this beautiful position! (JV)
---
Definitions:
Anti-Andernach: A piece (excluding King) changes its color after any non-capturing move. After capture, the piece retains its color. Rooks on a1, h1, a8 and h8 can be used for castling, provided the usual other rules for that move are satisfied. After castling, Rooks do not change color. If White makes a non-capturing move with neutral or halfneutral piece, that piece becomes black and vice versa.
Take & Make: Having captured, a unit must immediately, as part of its move, play a non-capturing move in imitation of the captured unit from the capture-square. If no such move is available, the capture is illegal. Promotion by capture occurs only when a pawn arrives on the promotion rank as the result of a take&make move. Checks are as in normal chess: after the notional capture of the checked K, the checking unit does not move away from the King's square.
Anti-Take & Make: Every capture ("take") must be complemented by a further step ("make" which is not a capture) by the captured piece (Kings excluded), which must move from its square of vanish (according to the wishes of the capturing side in case of options). The capture is forbidden if the captured unit has no possible moves. Promotions at the end of the "make" element are normal.
Nightrider(N): (1,2) Rider. Operates along straight lines with squares lying a Knight`s move away from each other.
---
Latvia

original – 14.02.2014

 

h#2               2 solutions             (1+5)
Anti-Andernach
Take&Make
Anti-Take&Make
Nightrider h8
(Popeye version)

 

 

No.500.1

 Julia Vysotska & Petko A. Petkov

Latvia / Bulgaria

Version of No.500 – 01.03.2014

 

h#2    b) Pd3→g6; c) Ng7→c2   (3+6)
Anti-Andernach
Take&Make
Anti-Take&Make
Nightrider b1, g7
(Popeye version)

 

 
---