---
No.548 by Georgy Evseev – A team of white PAOs in a play with tempo-moves! (JV)
---
Definitions:
Anti-Circe: After a capture the capturing piece (Ks included) must immediately be removed to its game array square (necessarily vacant, else the capture is illegal). Captures on the rebirth square are allowed. Game array squares are determined as in Circe.
Circe: Captured units (not Ks) reappear on their game-array squares, of the same colour in the case of pieces, on the file of capture in the case of pawns, and on the promotion square of the file of capture in the case of fairy pieces. If the rebirth square is occupied the capture is normal.
PAO(PA): Chinese piece operating along Rook lines: moves as Rook, but captures only by hopping over a hurdle to any square beyond.
---
Russia
original – 28.05.2014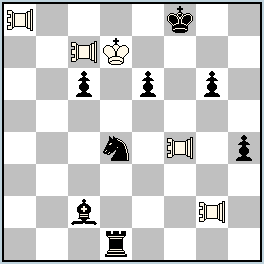 hs#2              2 solutions             (5+8)
Anti-Circe
PAOs: a8, c7, f4, g2
---