Original Problems (page 36)

Original fairy problems published during 2012 will participate in the informal tourney JF-2012. 

The site is mostly about fairies, but h# and s# are also welcomed for publication! Please send your problems to my e-mail: julia@juliasfairies.com
---
No.81 – h#2,5 ; b) h=2,5 ;  by Peter Harris – This problem is dedicated to me.. What can I say? I'm very touched! (JV)
---
Definitions:
SuperAndernach: A piece [other than a King] changes color upon moving.
Isardam: The moves causing a Madrasi – like paralysis are illegal. This holds right up to the capture of the mated King. This is standard form of Isardam.
---
You can сlick on "Solutions" to show or hide the solutions!
---
–
Dedicated to Julia Vysotska
–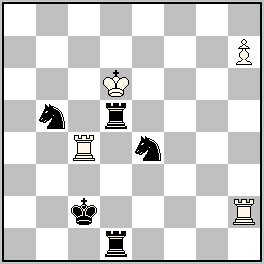 h#2,5             b) h=2,5            (4+5)
–
–
SuperAndernach was launched in The Problemist Supplement in March 2006. It is a combination of Andernach and AntiAndernach. In WinChloe it is called Echiquier magique [Magic Board]. (Author)
---
The diagrams are made on WinChloe and its Echecs font is used for Logo design