Original Problems (page 37)

Original fairy problems published during 2012 will participate in the informal tourney JF-2012. 

The site is mostly about fairies, but h# and s# are also welcomed for publication! Please send your problems to my e-mail: julia@juliasfairies.com
---
Welcome to Anatolij Kornilov, Russia!
No.82 – ser-hs#16 by Anatolij Kornilov – Author tells, that he has read Petko A. Petkov's articles about hs#– and ser-hs# problems, liked this kind of problems and started to compose them. Let's see! I've asked Mr.Petkov to comment this problem – see below. (JV)
---
You can сlick on "Solutions" to show or hide the solutions!
---
–
–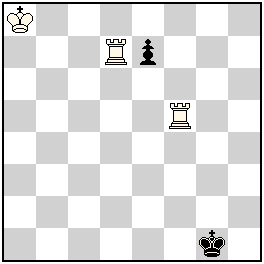 ser-hs#16                                   (3+2)
–
–
Comment by Petko A. Petkov
: А nice miniature! Here we see black Excelsior, systematic maneuvers of the black King and Queen. But such maneuvers are well known from the other old series problems, for example – with stipulations: ser-h#, ser-s# etc.
---
The diagrams are made on WinChloe and its Echecs font is used for Logo design