Original Problems (page 60)

Original fairy problems published during 2012 will participate in the informal tourney JF-2012. 

The site is mostly about fairies, but h# and s# are also welcomed for publication! Please send your problems to my e-mail: julia@juliasfairies.com
---
Warm welcome to the world known Macedonian maestro and editor of "The Macedonian Problemist" magazine – Zoran Gavrilovski!
No.116 – ser-h#7  –  Very active and attractive play of the black King! (JV)
---
You can сlick on "Solutions" to show or hide the solutions!
---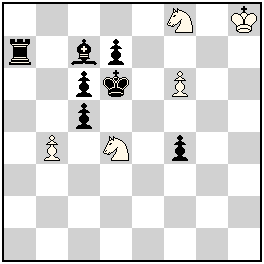 ser-h#7           b) Sf8→a6           (5+7)
Two pairs of double Klasinc switchback (switchback to a square after a line piece of the same colour passed through that square) by the BK, reciprocal dual avoidance at B1 (motivated by control of a potential BK flight square by the WS), exchange of B2 and B5, two trios of black self-blocks and two pairs of arrivals of black units (at B4 and B7) on squares vacated by other black units (at B2 and B6). 
 (Author)
---
The diagrams are made on WinChloe and its Echecs font is used for Logo design