---
I'm happy to see 2 Hungarian authors with a joint problem! This time I've a pleasure to welcome Tibor Érsek! And I'm thankful to János Mikitovics for his activity!
No.117 – ser-h=8 by Tibor Érsek & János Mikitovics  –  An interesting work of the both Hungarian national grandmasters! (JV)
---
Definition:
Anti-Circe: After a capture the capturing piece (Ks included) must immediately be removed to its game array square (necessarily vacant, else the capture is illegal). Captures on the rebirth square are allowed. Game array squares are determined as in Circe. antiCirce Cheylan: As antiCirce Calvet except that captures on the rebirth square are not allowed.
---
You can сlick on "Solutions" to show or hide the solutions!
---
No.117 

Tibor Érsek  & János Mikitovics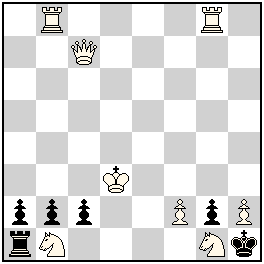 ser-h=8                                       (8+6)
Promotions – rundlauf – self-pins (Authors)
---
The diagrams are made on WinChloe and its Echecs font is used for Logo design