Original Problems (page 90)

Original fairy problems published during 2012 will participate in the informal tourney JF-2012. 

The site is mostly about fairies, but h# and s# are also welcomed for publication! Please send your problems to my e-mail: julia@juliasfairies.com
---
No.155 – hs#3 by Semion Shifrin –  Interesting thematic play of LEOs & NAOs. (JV)
---
Definitions:
LEO(LE): Moves as Queen, but captures only by hopping over a hurdle to any square beyond.
NAO(NA): Moves as Leo, but on Nightrider-lines instead of Queen-lines.
Nightrider(N): A Rider along a straight line on squares lying a Knight`s move away from each other.
Madrasi  – Units, other than Kings, are paralysed when they attack each other. Paralysed units cannot move, capture or give check, their only power being that of causing paralysis.
---
You can сlick on "Solutions" to show or hide the solutions!
---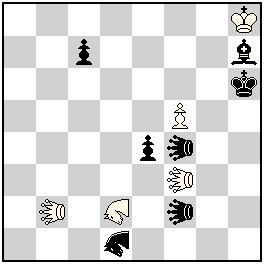 hs#3          b) NAd2→e2           (5+7)
LEOs: b2 , f2 , f3 , f4 
NAOs: d1 , d2
Madrasi
---
The diagrams are made on WinChloe and its Echecs font is used for Logo design