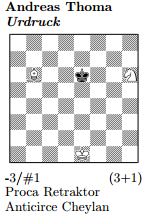 A couple of ,,Wenigsteiner" to enjoy for beginners and masters
Andreas Thoma
Dedicated to Julia
I want to thank Julia for the friendly way, she handles all the problems, we bother her with. Though I do not know whether she is a "proca-fan", I hope she likes one or the other.
The author presents a selection (PDF) of 15 Proca Retractors with Anticirce Cheylan condition, each using not more than 4 pieces on the board. Please, see the first page with diagrams only if you would like to try solving. The second page gives some hints, and the third page presents the solutions.
Published with the gratitude to Andreas! (Julia)
See the definitions of Proca Retractor and  Anticirce Cheylan.
---