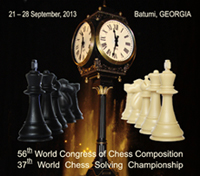 The 56th WCCC & 37th WCSC in Batumi
22nd-28th of September, 2013!
(29.09) Two new Awards available: Award 1° Azemmour and 4th Bulgarian Wine Tourney 2013 ! Congratulations to the winners and participants!
(28.09) I don't see any official announcement yet, but have heard that the next Congress will take place in BERN, Switzerland, in the end of August 2014. 
(27.09) Composing tourneys – almost nothing is published… I have only  11th Tzuika Award and VODKA TOURNEY – 2013 is published on A.Selivanov's website.
(27.09) Problems & Solutions are added for Open Solving. WCSC results are published at WFCC website! Congratulations to the World Champion – Piotr Murdzia! To the team's Champion –  Poland! And to all other medal winners and participants!!
(25.09) For now I know just two things about the Congress:  it was raining in Batumi the first days; and the results of Open Solving Tournament Batumi, 23rd September 2013, are just published at WFCC website! Congratulations to the winners – Ofer Comay and Arno Zude! And congratulations to all participants!
I wish to all participants of the meeting to have a great time in Georgia! Quick composing competition is waiting for you already tonight, and an Open solving competition the next morning will continue to keep you up! I wish a good luck to composers and solvers in these first competitions, I admire the ability of solvers to go through a very hard two days of WCSC on 24th-25th of September, I wish to all of us to be successful in the composing competitions announced for the 56th WCCC! 
I'd like to invite the participants of the Congress to send your comments and maybe some photos of the events – I'd be happy to publish them here!
---