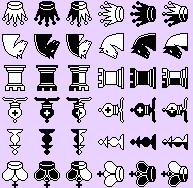 Does anybody know the approximate number of fairy elements (pieces and conditions) we have? Just try to guess!

I believe, for now WinChloe's Echecs database (by Christian Poisson) is the most comprehensive source of published problems and existing fairy elements. The last update of Echecs database from 12.09.2020 contains 785,899 problems! Well, this is the information visible to all users of WinChloe. But there's something else, not so visible, but still existing – Fairy pieces and condition invented. I've asked the implementer about it. So, thanks to Christian we have an astonishing statistics! The number of invented elements is … ⇒
If composing with the "TOP" fairy elements we'd be understood by most of other composers; the same time it would be harder to create something original here; but the originality would be felt and appreciated and valued by the most!
---