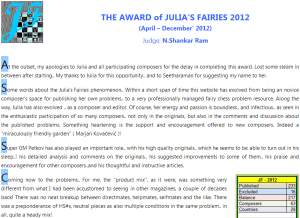 Dear Friends,
I'm so happy to announce
The Preliminary Award of JULIA'S FAIRIES 2012!
You know, there were about 200 problems for period April – December'2012. So many very good problems, so many famous authors, so many interesting comments, versions!.. Judging of this tournament was a real challenge! And I'm very thankful to N.Shankar Ram for accepting my invitation and for his hard work! 
My sincere congratulations to all authors of awarded problems and to all participants! I really wish to see all your problems in the Award! This tournament is very special to me, as it was the first one.. Your contributions, your support have really created Julia's Fairies! You helped me a lot and motivated me with your activity, and from my side I'd like to motivate you for a new achievements as well. Either you're in the Award, or not, you've done a great job! You always have another chance to win! But I will always enjoy browsing a list of problems'2012 with all the memories, ideas and long comments…  / Julia
Please send your comments, correction and objections to the Award until 15th of December, 2013, when the Award becomes Final.
Final Award will have also PDF version to download/print.
---