---
No.420 by Peter Harris – This nice Miniature with a combination of Isardam and Chameleon Chess has opened up some questions. And finally I've decided to present it to you with some comments about the interpretation of Chameleon Chess condition in WinChloe and in Popeye, as well as comments about possible bugs in Popeye on the example of this problem. (JV)
---
Definitions:
Isardam: Any move, including capture of the King, is Isardam illegal if a Madrasi-type paralysis would result from it.
Madrasi: Units, other than Kings, are paralysed when they attack each other. Paralysed units cannot move, capture or give check, their only power being that of causing paralysis.
Madrasi RI (rex inclusive): the rule applies to Kings as well, so the two Kings may stand next to each other.
Chameleon Chess: All pieces on the board which are displayed as orthodox Q, R, B, S, are Chameleons. A Pawn can promote only in Chameleon-pieces.
Here I'd like to mention that this interpretation worked in Popeye's version till 4.61, but doesn't work in the last version, 4.63. I'm not sure either it's a bug or some new interpretation.
Also, WinChloe has a different interpretation of Chameleon Chess, where orthodox pieces on the board don't turn into Chameleons, but a pawn promotes into Chameleon piece. I'd like to offer you a little explanation with examples about WinChloe's interpretation of Chameleon Chess and Promotion into Chameleon Allowed kindly provided by Christian Poisson.
Chameleon: On completing a move, a Chameleon (from classical standard type) changes into another piece, in the sequence Q-S-B-R-Q… Promotion may be to a Chameleon at any stage in the cycle if any Chameleon piece is presented on the board.
---
South Africa
original – 13.11.2013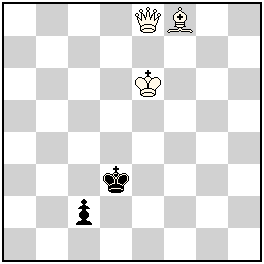 hs#3            b) wKe6→f1           (3+2)
Chameleon Chess
Isardam
---