---
No.395 by Peter Harris – An excellent demonstration of many fairy effects in the both solutions! Meredith. (JV)
---
Definitions:
Anti-Circe: After a capture the capturing piece (Ks included) must immediately be removed to its game array square (necessarily vacant, else the capture is illegal). R, B & S go to the square of the same colour as the capture; Ps stay on the file of capture.
Isardam – any move, including capture of the King, is Isardam illegal if a Madrasi-type paralysis would result from it.
Madrasi – like units other than Kings are paralysed when they attack each other. Paralyzed units can not move, capture or check, their only power being that of causing paralysis.
---
South Africa
original – 21.10.2013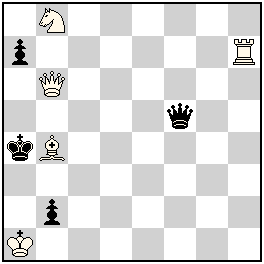 hs#3           b) bKa4→d1            (5+4)
Anti-Circe
Isardam

---