---
No.443 by N.Shankar Ram – A nonstandard Reflex-mate conception! Warm welcome to the judge of JF-2012 in Original Problems section! Use the opportunity to comment!! (JV)
---
Definitions:
Elan: Moves like a Grasshopper ((0,1)+(1,1)Hopper), but deflects 45° either way on passing over the hurdle. The arrival square is adjacent to the hurdle.
Hopper (m,n) (family): Moves along (m,n) Rider lines stopping on the next square after the first obstacle of either color. A capture may be made on arrival, but the hurdle is not affected.
Paralyzing piece: Moves as normal but cannot capture; instead it paralyses any enemy unit it attacks, so that this unit is unable to move, capture or give check, until the attack from the paralyzing piece ceases. At the mate the side being mated must have at least one move available before the notional capture of the King.
---
India
original-30.11.2013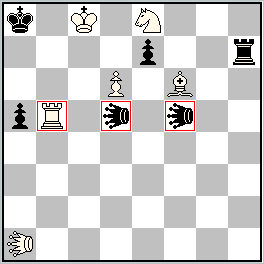 r#2                                               (6+6)
Elans: a1, d5, f5
Paralysing Pieces: b5, d5, f5
---