---
No.511 by Eric Huber – A nice dedication and complicated to solve three-man in typical Eric's style! Not long ago I welcomed Eric as a judge of JF-2013/III, but this time I'm happy to welcome his first publication in Original Problems section of JF! (JV)
---
Definitions:
Maximummer (Black Maximummer): Black must play the geometrically longest move or may choose from among longest moves of equal length, distances being measured from the center of each square. Diagonal and oblique distances are measured from the orthogonal coordinates by using Pythagora's theorem (take the square root of the sum of the squares of the orthogonal distances). All other orthodox chess rules apply.
Anti-Circe =Anti-Circe Calvet (the default type): After a capture the capturing piece (Ks included) must immediately be removed to its game array square (necessarily vacant, else the capture is illegal). Captures on the rebirth square are allowed. Game array squares are determined as in Circe.
Sentinels Pion Advers: When a piece (not a Pawn) moves, a Pawn of the colour of the opposite side appears on the vacated square if it is not on the first or the last rank, and if there are less than 8 Pawns of that colour on the board.
---
Romania
original – 10.03.2014
Dedicated to Peter Harris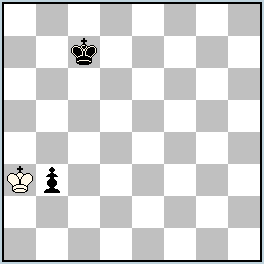 hs#4,5                                           (1+2)
b) bKc7->b6; c) bKc7->d6
Maximummer
Anti-Circe
Sentinels Pion Advers
---