---
No.538 by Petko A. Petkov – A non-standard Disparate #2 with rich content! (JV)
From the author:
Today I present You a new my problem that shows my favorite theme in the genre Disparate-promotions! Many other themes and ideas accompanying these eternal actual Pawn's moves. I believe that the content is quite complex, in two different thematic parts. But the technical realization of such tasks always requires a lot of pieces…
It is necessary to remind that my Disparate problems are composed according to Popeye version of implementation of this condition – under diagram you see Disparate (Py) . Therefore it would be wrong to check this problem with WinChloe that has other Disparate principles.
---
Definitions:
Disparate: If one side makes a move with a piece of type "x" (black, white, neutral, half-neutral, etc., King included), the other side cannot answer immediately by moving a piece of the same type "x". (For example: white Qc1, black Ka8,Qa7 – mate in 1 move. After 1.Qc8#, Black is mated because 1…Qb8? is illegal. The mate is possible also with the neutral nQc1 – after 1.nQc8#. Black cannot move the same neutral Queen.) Every Pawn's promotion is a Pawn's move, therefore after such promotion (into any possible piece) the other side cannot answer immediately with its Pawn. We can say that after the move of the figure of type "x" any enemy figure of type "x" falls under Half-moving paralysis. This paralysis disappears immediately on the next half-move, if the opponent plays with another piece of type "y". (This way it is implemented in Popeye. Another implementation of Disparate you can find in WinChloe, but it is based on the different rules.)
Nightrider(N): (1,2) Rider. Operates along straight lines with squares lying a Knight's move away from each other.
MAO(MA): The Chinese knight, which is a Rider, moving along a bent line to the arrival square of a normal Knight, first orthogonally then diagonally. The Mao can be interfered with on the intervening square.
Rose(RO): (1,2) Octagonal Rider (extents the move of the Knight on a circular path e.g. a4-b6-d7-f6-g4-f2-d1-b2 or a4-c5-e4-f2).
---
Bulgaria
original – 01.05.2014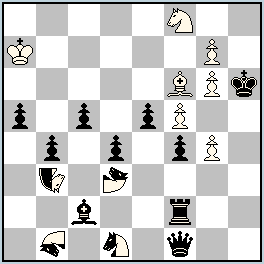 #2                                         (7+10+4)
Disparate (Py)
Nightrider b3
MAO b1
Rose d3
---